eOrder schedule changes Follow
Error Occurs when Transmitting eOrder - Schedule Changes Detected - eOrder Schedule changes must be saved first.
If changes were made to an eOrder, you should save and send a makegood offer. For Prime eOrders, you need to save and then transmit.
OR:
This error can occur when the Geo is set to DMA in the Header, but you have Zone populations on the order.
For DMA Geo: populations across all syscodes need to match in order for you to save & then transmit the order. This is the case in Optix & legacy applications (Strata).

You can update the Pop on the new syscodes/lines by copy (CTRL-C) and paste (CTRL-V) paste in all the cells. You will need to update the Pop for all demos on the order.

If you need to preserve the ratings/impressions in the scheduler you can copy those values and paste them back in after you update the population. *TIP: use the comments section or excel*
TIp* to quickly check the populations on a demo - click the "filter" option in the Pop column header: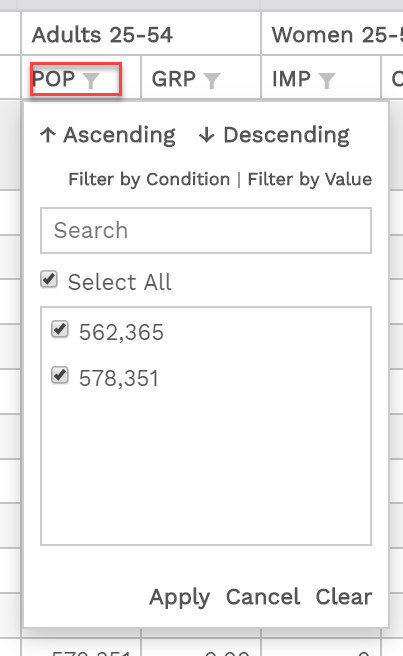 Once the population matches across all syscodes and demos, the order should transmit.